Quick Navigation
Quick Navigation:
♠ Rules
♠ Taken Characters (& -Faces)
♠ User Statistics
♠ Introduction Model
♠ Relationship Status
♠ The Shop


Location Links:
♠ Communication
♠ Around the City
♠ Las Vegas Police Department
♠ Night Life
♠ AU, Past & Future
♠ Character Extras
♠ Out Of Character

Info Box
CSIs Shifts:
CSIs on this forum word the graveyard shift, meaning they work at night, unless they're called to an emergency, or work a very tough case that would cause them to work at daytime. You can choose wether your CSI character works from
10 PM - 6.30 AM
or from
Midnight - 8.00 AM.
Season
Current Season:

Top posting users this week

Jason Gideon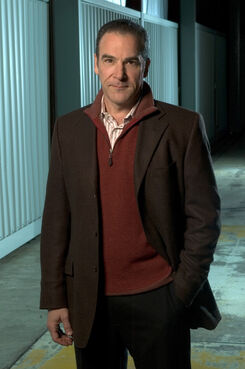 Nickname/s:
Age/DOB: November 30, 1952
Marital Status: Widowed
Sexuality: Heterosexual
Play By: Mandy Patinkin

Occupation:
Retired FBI Supervisory Special Agent
Apartment or House:
Apartment
Personality:
Gideon has a knack for counseling his colleagues and has been a great help to both Derek Morgan and Spencer Reid. He is also an avid chess player, shown playing with--and beating--Dr. Reid on several occasions. He showed particular dislike for the practice of using religion as a defense or motivation for one's crimes. Gideon began to lose confidence in his profiling skills after Frank Breitkopf murdered his girlfriend, Sarah Jacobs. During his final case in Arizona, he further lost faith in his abilities when his decision to release the unsub resulted in the deaths of both the unsub and a young woman. As a result of his actions, Aaron Hotchner was suspended, which was the final straw for Gideon. He then left his cabin shortly afterwards, leaving his gun and badge behind along with a letter for Reid to find as he sought to regain a belief in happy endings.
History:
Senior SSA Jason Gideon was the BAU's best profiler. He helped Derek Morgan and Spencer Reid through their nightmares. He was shown to have a very close relationship with Reid, having hand-picked him from the FBI Academy for his team, helping Reid through many difficulties (including his implied drug use), and even leaving the good-bye letter for Reid to find. Gideon did not know Garcia well, as expressed through an episode wherein he is placed with her while he is on crutches; after they are placed, Garcia complains about him, and he doesn't know her name. Through the first two seasons, Gideon was portrayed to be very good at chess, winning against Reid many times (only exception being Reid's birthday) and encouraging him to "think outside the box." Prior to the series, he was said to have had a "nervous breakdown" (or "major depressive episode") after he sent six men into a warehouse with a bomb in it; all six agents were killed, and he was heavily criticized about the event. He showed particular dislike for the practice of using religion as a defense or motivation for one's crimes. Gideon participated in some field operations during his time with the BAU and had the rest of his team "think outside the box" as well, as he made a major advancement by shouting at the top of his lungs with pleas of mercy and, when questioned by his team, he said that the victims were being threatened to be kept quiet as neighbors would have heard the pleas if they were unrestrained. He blamed himself for the torture Reid received from Tobias Hankel as he had ordered Penelope Garcia to add a virus warning to the videos Hankel posted. Gideon also had a son named Stephen. The nature of their relationship has not been directly stated, but it was implied that they have not seen each other very recently.
Alias:
John
Means of Contact/s:
PM
Other Characters:



Age

: 38

---

Posts

: 679



Thank you, but I need to clarify that I no longer work with the FBI



Age

: 38

---

Posts

: 679






Age

: 24

---

Posts

: 312



Hannah please... Everybody called me that way...



Age

: 24

---

Posts

: 312





Similar topics
---
Permissions in this forum:
You
cannot
reply to topics in this forum